I am not sure why this book won the Baileys Women's Prize for Fiction.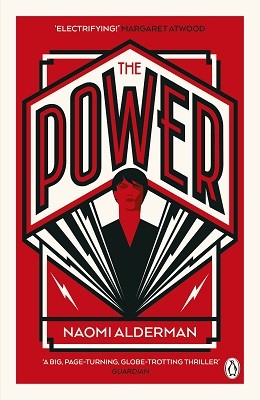 Okay, I accept the main conceit that women are suddenly able to 'infect and teach' each other how to acquire and implement the physical ability to deliver electric shocks; thus are women physically transformed from being the weaker sex into the powerful sex.  The novel then sets out to explore how this turning of the tables might change the world, might inculcate a world of new possibilities.
Except it doesn't.  All that happens is that those in power, women, make uninfected women and men into minions and set up a hierarchy. In Power society as remains the same because there is no social development at all as those on top are cruel, dismissive, self-serving, belittling, equate physical power with superiority in all spheres and misuse their physical strength to compel others into obedience, slavery and sycophancy.  It is a very depressing book as it reinforces the might makes right mantra.
      Power is graphic in its description of the cruelties inflicted upon women by men: women imprisoned in cellars, women enslaved in whore houses, girls raped and abused by carers, career women frustrated by prejudice, the use of filthy language to denigrate girls and women …  it counts out these and other horrors and they are shocking in it their magnitude.  As the use of electric shock permeates the female population the men react violently to the threat to their power and in Saudi Arabia we are told that the women are blinded so as men can regain control.  This book gave me the same sick feeling and sense of despair that I had when I read A Brief History of Seven Killings by Marlon James.  Alderman and James are certainly effective horror writers.
The novel follows the path of a handful of women who ride the wave to become prominent in a variety of arenas:  a religious order celebrating the Goddess who gifted women and not men; the political harnessing of the apprehension about wave of women and girls exercising their electric power; the bloody transfer of dominance within a drug running family to a daughter; and the setting up of a nation of vengeful women under the guidance of an abused one.  All of the women who assume power are damaged and re-enact the violence inflicted upon them.  They are as cruel and limited in their vision as the men they replaced.
And there's the rub.  There is no exploration of what this electric power might have had in positive and creative situations whether it be in families, groups or nations.  We just crash straight to violence and nastiness and the end of the world as we know it.  Power lacks any subtlety.
The sub-plot is that this story of the collapse of civilization is being written centuries after the event by a man, whose genius is blighted by the restrictions and negative assumptions connected to his sex including being advised to write under a pseudonym.  The women's civilization bears an uncanny resemblance to the one that disappeared.
As far as making a list of abuses by the powerful against the weak this novel has it all. But it has no other message to give save that those at the top behave monstrously.  Makes one wonder why one should strive for emancipation at all.  A dreary vision indeed.  And I think a very wrong one.